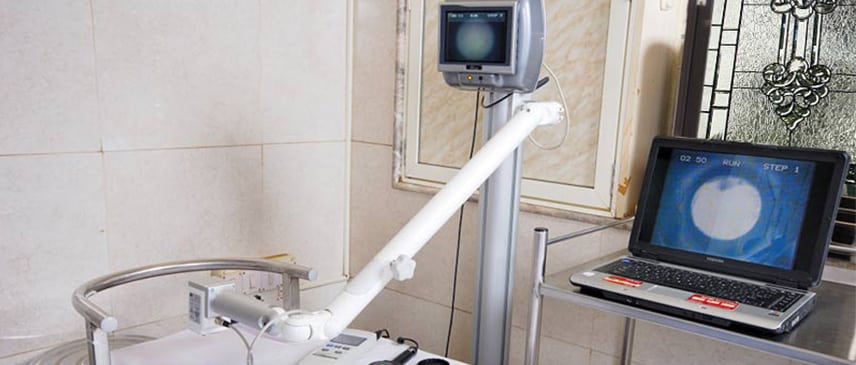 27 Sep

Corneal Collagen Cross Linking

It is a novel technique to stop the progressive deterioration of corneal shape in eyes with Keratoconus, Pellucid marginal degeneration and Post LASIK corneal ectasias.

It utilizes a controlled beam of specific wavelength of Ultraviolet light (UV-A) in combination with Riboflavin drops that are used frequently during the procedure. This combination of UV light with riboflavin induces the photo-chemical reaction within the corneal micro-structure that increases the bonding of corneal fibers and thus makes this cornea strong and prevents further deformation of the cornea.

A video camera attachment enables a better-focused and controlled delivery of UV light specifically only to the front layers of cornea without affecting its inner layers or inside of the eye.
Pre-requisites
This can be performed in corneas, which are thicker than 400um on ultrasonic pachymeter or OCT. The corneas, which are thinner than 400um, in some cases, can still be subjected to this treatment with Hypotonic Riboflavin drops preparation. The decision to do these eyes remains controversial and the corneal specialist is the best person to take this decision.
INDICATION – It is indicated for Keratoconus, which is progressing. This progression should be preferably documented on Corneal Topography and occasionally on changing glass prescriptions. It may be advisable, occasionally doing this procedure in young children (age between 10-18 yrs.) on detection of this condition for the first time, without documenting any progression.
Procedure
This procedure is done under topical anesthesia i.e. with anesthetic eye drops and lasts for approximate 45-60 minutes depending on conventional or Express protocol. It does not involve any cuts or injections inside the eye. One eye is done at a time, followed by the second eye later after 1-6 weeks.
Two techniques can be utilized to perform this procedure.
DE epithelizing – The outermost layer of cornea i.e. epithelium is peeled off at the start of procedure for better penetration of light and riboflavin. The epithelium grows back in 48-72 hrs of the procedure. A contact lens or an eye patch is placed at the end of procedure for better control of pain and healing of the epithelium.
Trans epithelial CXL– where outermost corneal layer i.e. epithelium is kept intact and procedure is performed with specialized Riboflavin drop preparation.
This is then followed by instillation of Riboflavin drops for 30 minutes. Following this, UV-A light is focused on the eye (cornea) along with instillation of riboflavin drops for next 30 minutes.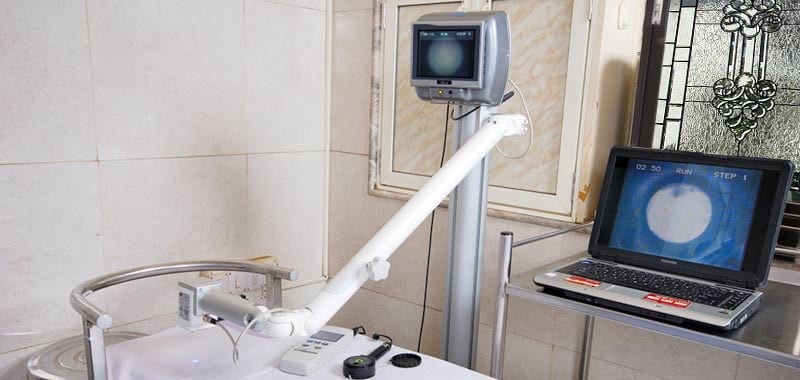 This procedure is painless and one can relax closing the eyes during the first 30 minutes while only drops are instilled into the eye. One needs to keep the eyes steady during the later 30 minutes so as to allow a proper UV exposure to the cornea.
A contact lens or a bandage is applied at the end.
This procedure can be combined with placement of INTACS rings inside the cornea or laser treatments to correct the shape of cornea partially.
Results
The effect of the procedure is usually seen after 3 months and continue to show up to 3 years following treatment.
The corneal shape (Corneal Topography) needs to be monitored at frequent intervals to assess the stabilization of corneal shape. (At 3 months, 6 months, 1 year, 2 years and 3 years after the procedure).
Complications
The procedure is usually safe if performed under proper guidance.
Following complications can occur in occasional cases:
Corneal scarring
Non-resolving corneal edema.
Corneal infection or abscess.
Non-healing corneal epithelial defect.
Corneal Stromal melts and perforations.
It is advisable to consult your cornea specialist to know further about these complications.